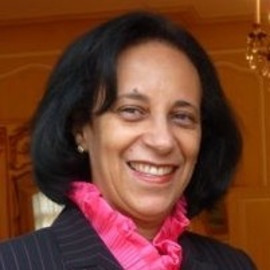 Bio
In December 2005, Her Excellency Hunaina Sultan Al-Mughairy was appointed as Ambassador Extraordinary and Plenipotentiary of the Sultanate of Oman to the United States of America. Ambassador Al-Mughairy is an economist with an extensive business background. Since taking over this position, she has been a strong advocate for the U.S.-Oman Free Trade Agreement and has focused much of her energy on improving commercial relations between the United States and Oman. In 2011, recognizing her important contributions to the Oman-U.S. commercial relationship, the National U.S.-Arab Chamber of Commerce named her "Ambassador of the Year." As the first female Ambassador to represent an Arab country in Washington, Ambassador Al-Mughairy wants to improve the image of Arab women in the United States. 

From 1999 to 2005, Ambassador Al-Mughairy served as the representative of the Omani Center for Investment Promotion & Export Development (OCIPED) in New York City. From 1996 to 1998, she was the Director General of Investment Promotion at OCIPED. From 1991 to 1996, she acted as an advisor to the Under-Secretary for Industry at the Ministry of Commerce and Industry, and from 1985 to 1991, she was Director of Industrial Planning and Research at the Ministry of Commerce & Industry and a member of the Planning Committee for Major Gas Projects in the Sultanate of Oman. From 1984 to 1985, she worked in the Permanent Mission of the Sultanate of Oman to the United Nations in Geneva, and from 1984 to 1979, she acted as Director of Industrial Loans and Grants at the Ministry of Commerce and Industry. From 1973 to 1974, she was Assistant to the Economic Advisor to H.M. Qaboos bin Said Al-Said, the Sultan of Oman. 

Ambassador Al-Mughairy obtained a Bachelor's Degree in Business and Economics from High Polytechnic Institute in Cairo and a Master's Degree in Economics from New York University.