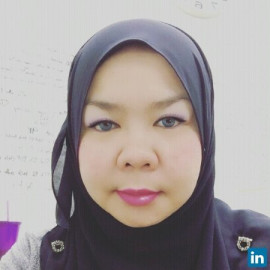 Bio
Title:
World Class Supply Management(WCSM)

Abstract:
1) Objectives WCSM
2) Strategic activities for WCSM - Can be focus on 10 strategic activities
3) Impact Supply Chain Management - Sales vs. Cost
4) Conclusion

Bio:
Adlina has work background of Supply Chain activities for both local and MNC companies and experience more than 15 years in various industries. Work begans with local construction companies then heavy machinery trades and services, followed by telecommunications and now in manufacturing for aviation/aerospace industry. Extremely works together with Operations, Quality and Engineering, Planning, Business Development and Logistic team to achieve company goals and objectives. Works are details on helping and identifying customers demand and requirements, sourcing, manufacturing, involves with supplier quality and development, inventories and also implements any change to get best performance with high profit. 

Adlina also comes with package of strong project management skills, forecasting, risk mitigation and understand business planning and strategy. Besides that she also demonstrating and provide trust, security and transparency between team and customers or suppliers.