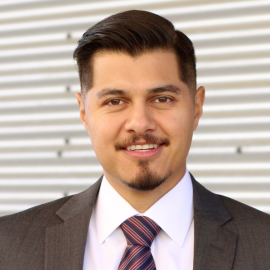 Bio
Nelson Vanegas is a Digital Content Producer at Goodspero, a media agency that focuses on creating content for social impact. He strongly believes in the power of storytelling in new mediums such as 360 VR and AR. He has a BA in Mass-Media Production from the University of Houston and ten years of broadcast experience. 

As former Production Director for Univision Communications, he helped strategize and rollout social media policies and online content to Univision's radio markets across the U.S.  Nelson is active in the TEDxHouston and TEDxYouth@Houston leadership teams as well as sitting on the board of the Houston Association of Hispanic Media Professionals. 

He and his wife are avid supporters of community-centered initiatives and social good projects through the arts. His mission in life is to inspire others to use technology and the digital space to fuel and empower social do-gooders.