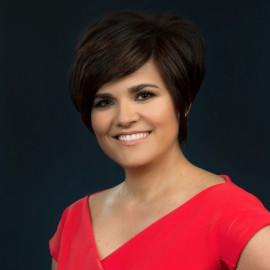 Bio
Joni Fernandez is senior vice president of the Univision Agency, the Company's full-service internal agency which is responsible for all cross-channel promotions and over $500 million of media inventory across all of Univision's 16 broadcast, cable and digital networks, and radio properties. At the helm since its inception in 2013, Ms. Fernandez and her Agency team were key to the Company's flagship Univision network winning two consecutive July ratings sweeps, establishing it as the nation's #1 broadcast network for those periods in any language. In addition, The Agency's cross-promotional campaign for the 2014 FIFA World Cup achieved record-breaking ratings and social media activity.

Ms. Fernandez previously served as vice president of On-Air Promotions and Marketing for Univision Communications' portfolio of cable networks, overseeing marketing and promotions efforts by focusing on elevating brand equity and creating consistency and continuity throughout messaging. During this time, she contributed to the highly successful launch of the Univision tlnovelas network, as well as the rebranding campaign on behalf of Galavisión, the nation's leading Spanish-language cable network, spearheading the first redesign of the logo and on-air look in 15 years. 

Prior to this position, as vice president of On-Air Development for the Univision Network, Ms. Fernandez was instrumental in the relaunches of the network's most important programs including its morning show "Despierta América" (Wake-Up America), entertainment news programs "El Gordo y La Flaca" (The Scoop and The Skinny) and "Sal y Pimienta" (Salt and Pepper), as well as the news division's "Noticiero Univision" nightly newcast, "Aquí y Ahora" (Here and Now) newsmagazine, and the Sunday morning public affairs program "Al Punto" (To the Point).

Previous to that, Ms. Fernandez led the Program Continuity division of Univision Networks for 13 years working closely with all divisions of the company on a variety of projects, including creating content and project managing the Company's Upfront presentations, as well as a number of the Corporation's empowerment initiatives including voter registration and get out the vote campaigns, for which she received a Peabody Award in 2008.

Earlier in her career, Ms. Fernandez was an intern and production assistant for the Univision Network, and worked as a producer for live magazine and variety shows for Telemundo. She returned to Univision in 1994 as producer for the news program "Primer Impacto" (First Impact) and then moved on to launch the network's top-rated morning show "Despierta América" (Wake-Up America). 

A member of Women in Cable Telecommunications (WICT), Ms. Fernandez received her bachelor of science degree in Communications from the University of Miami.