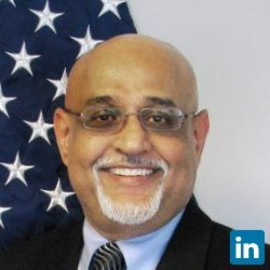 Bio
Kirit Amin was named US International Trade Commission (USITC) , Chief Information Officer (CIO) in December 2014. He works directly for the Board of Commissioners and has already mapped out the Data Center , Cloud and shared services strategy as well as the road map for the modernization of the commission's IT infrastructure and mission critical systems.

Kirit was the U.S. Department of Commerce, Deputy Chief Information Officer and Chief Technology Officer (CTO) from November 2012 until his move to USITC in December 2014.   He provided leadership and strategic technology implementation, fulfilling the CIO and Department's IT operational mission, while expanding the use of Department-wide shared services, cloud implementation and emerging technologies.

Prior to joining the Department of Commerce, Mr. Amin served as the Chief Technology and Innovation Officer at HUD where he provided valuable leadership and vision to help define its 5 year IT Transformation initiatives, acquisition strategy for HUDNET, HUD's next generation Enterprise Infrastructure including WAN, Data Center and end user functions, shared services strategy and implementation, as well as  cloud strategy and implementation.  

Prior to HUD, Amin was the Chief Information Officer for the Bureau of Consular Affairs (CA), for nearly five years where his leadership was instrumental in transforming the US State Department, Office of Consular Systems and Technology's [CST] IT operations consisting of a multitude of overlapping legacy systems, to an exemplar cutting edge IT operation, that was recognized as one of the most innovative and successful IT shops in the Federal Government. He served as a senior advisor and participant for various interagency/international groups. 

During his long and successful career in the Federal IT private sector at organizations such as Nortel/PEC, Infotec, CSC etc. serving  Federal Departments such as  DOA, DHS, DOI, DOT, VA, DOJ, the USAF, DIA, etc.